bFGF
製品分類 : ヒトES/iPSC-培養試薬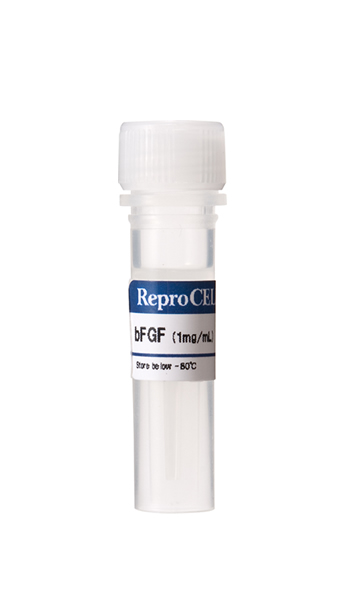 【特徴】
ヒトES細胞、ヒトiPS細胞の培養に最適なHuman Recombinant bFGF(FGF-2:Basic fibroblast growth factor)です。
ヒトiPS細胞株 201B7では、当社bFGF 5 ng/mLの添加で良好に培養できます。
全ロットで、ヒトiPS細胞による培養試験を行っておりますので、安心してお使いいただけます。
お求め安い価格となっております。
Primate ES Cell Medium (霊長類ES細胞用培地)、ReproStem、ReproFFの5本セット、またはReproFF2の3本セットと購入すると、bFGF(25 ug)が半額になります。
※保存温度:-80℃
概要
| | |
| --- | --- |
| Molecular Mass | The 146 amino acid residue recombinant protein has a molecular mass of approximately 16.0K |
| Concentration | 1 mg/mL |
| Buffer | 10 mM Tris-HCL, 1mM DTT, 2M NaCL, pH7.5 |
| Filtered | 0.22 μm filter |
| Purity | >97%, as determinded by SDS-PAGE and visualized by CBB stain |
| Activity | The biologocal activity of recombinant human FGF basic was monitored in a mitogenic assay by WST8 |
論文・発表
参考文献
霊長類ES/iPS細胞用培地を実験にご使用いただいた論文のリストはこちらです。
Matsuura K, Seta H, Haraguchi Y, Alsayegh K, Sekine H, Shimizu T, Hagiwara N, Yamazaki K, Okano T. TRPV-1-mediated elimination of residual iPS cells in bioengineered cardiac cell sheet tissues. Sci Rep. 2016 Feb 18;6:21747. doi:10.1038/srep21747. PubMed PMID: 26888607.
Hirata, Nao, et al. "A Chemical Probe that Labels Human Pluripotent Stem Cells." Cell reports 6.6 (2014): 1165-1174.
Isono, Kaori, et al. "Generation of familial amyloidotic polyneuropathy-specific induced pluripotent stem cells." Stem Cell Research (2014).
Luo, Lan, et al. "Effects of antioxidants on the quality and genomic stability of induced pluripotent stem cells." Scientific reports 4 (2014).
Mull, Amber N., Amanda Klar, and Christopher S. Navara. "Differential Localization and High Expression of SURVIVIN Splice Variants in Human Embryonic Stem Cells but not in Differentiated Cells Implicate a Role for SURVIVIN in Pluripotency." Stem Cell Research (2014).
Fukamachi, Hiroshi, et al. "CD49fhigh Cells Retain Sphere-Forming and Tumor-Initiating Activities in Human Gastric Tumors." PloS one 8.8 (2013): e72438.
Haraguchi, Yuji, et al. "Simple suspension culture system of human iPS cells maintaining their pluripotency for cardiac cell sheet engineering." Journal of tissue engineering and regenerative medicine (2013).
Liu, Yang, Shinji Sakai, and Masahito Taya. "Impact of the composition of alginate and gelatin derivatives in bioconjugated hydrogels on the fabrication of cell sheets and spherical tissues with living cell sheaths." Acta biomaterialia 9.5 (2013): 6616-6623.
Murakami, Masashi, et al. "The use of granulocyte-colony stimulating factor induced mobilization for isolation of dental pulp stem cells with high regenerative potential." Biomaterials 34.36 (2013): 9036-9047.
Nakajima-Takagi, Yaeko, et al. "Role of SOX17 in hematopoietic development from human embryonic stem cells." Blood 121.3 (2013): 447-458.
Takase, Osamu, et al. "The Role of NF-κB Signaling in the Maintenance of Pluripotency of Human Induced Pluripotent Stem Cells." PloS one 8.2 (2013): e56399.
Terai, Hideki, et al. "Activation of the FGF2-FGFR1 Autocrine Pathway: A Novel Mechanism of Acquired Resistance to Gefitinib in NSCLC." Molecular Cancer Research 11.7 (2013): 759-767.
Higuchi, Takuma, et al. "High Expression of Nuclear Factor 90 (NF90) Leads to Mitochondrial Degradation in Skeletal and Cardiac Muscles." PloS one 7.8 (2012): e43340.
Koyama, Noriaki, et al. "Human induced pluripotent stem cells differentiated into chondrogenic lineage via generation of mesenchymal progenitor cells." Stem cells and development 22.1 (2012): 102-113.
Ishiwata, Toshiyuki, et al. "Enhanced expression of fibroblast growth factor receptor 2 IIIc promotes human pancreatic cancer cell proliferation." The American journal of pathology 180.5 (2012): 1928-1941.
Kunisada, Yuya, et al. "Small molecules induce efficient differentiation into insulin-producing cells from human induced pluripotent stem cells." Stem cell research 8.2 (2012): 274-284.
Matsuura, Katsuhisa, et al. "Creation of human cardiac cell sheets using pluripotent stem cells." Biochemical and biophysical research communications 425.2 (2012): 321-327.
Nomura, Yoshiaki, et al. "Human periodontal ligament fibroblasts are the optimal cell source for induced pluripotent stem cells." Histochemistry and cell biology 137.6 (2012): 719-732.
Sato, Atsuki, et al. "Expression and role of nestin in human cervical intraepithelial neoplasia and cervical cancer." International journal of oncology 41.2 (2012): 441-448.
Shimojima, Keiko, et al. "Reduced PLP1 expression in induced pluripotent stem cells derived from a Pelizaeus?Merzbacher disease patient with a partial PLP1 duplication." Journal of human genetics 57.9 (2012): 580-586.
Yabe, Tomio, et al. "A peptide found by phage display discriminates a specific structure of a trisaccharide in heparin." Journal of Biological Chemistry 286.14 (2011): 12397-12406.
YAMAMOTO, TeTSuSHI, TOSHIYuKI ISHIwATA, and ZENYA NAITO. "Morphological and cytoskeletal alterations of nervous system tumor cells with different culturing methods." International journal of oncology 38 (2011): 1253-1258.
製品のリスト・価格
価格表
| 品番 | 製品名 | 希望小売価格(税抜) |
| --- | --- | --- |
| RCHEOT002 | bFGF(25ug) | ¥12,800 |
| RCHEOT003 | bFGF(250ug) | ¥78,000 |